It's fair to say that for most authors, writing is not their full-time job.  Even traditionally published authors, with the relative 'security' that affords, are reluctant to give up the day job and base their entire earnings on the whims of the book industry.  And so they live a double life, where they seem like perfectly normal human beings during the day, only to turn into reclusive, obsessed, gargoyles with dark rimmed eyes  and coffee stained jogging pants by night, tapping away at their opus magnum.
I, on the other hand, have chosen a day job that doesn't exactly scream 'pension plan'.  I pretty much switch from being one starving artist to another!  Yes folks, the scandalous truth is that when I'm not being a word junkie, I'm a designer/artist/crafter.  I began making bilingual (Irish/English) greeting cards a few years ago and selling them at local markets.  Over the years, I have developed the range to include art prints and even shopping bags, and my designs are now stocked in gift shops all around the county.  I absolutely love painting and whenever I get stuck with my writing, I get out the brushes and let my right-side brain loose!  I can't imagine doing one without the other, because for me, they are both beautiful forms of self-expression, dreaming and storytelling.  I might even try to paint my own book cover next time, but that would require me to finish writing it first 😉
Anyway, just thought I'd give you all a glimpse into my world when I'm not writing, because let's face it – even when you're not writing, you're plotting.
You can check out my shop on Etsy or visit my website here.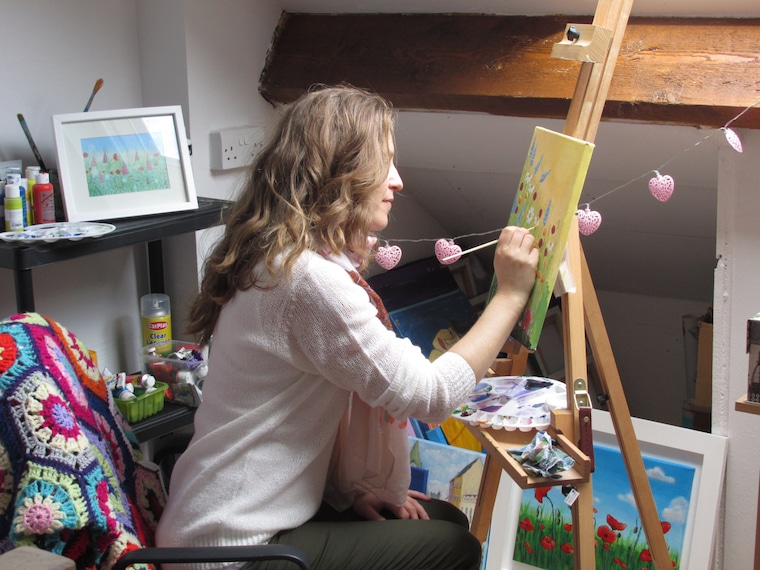 Designs to make you smile!

Aveline Craft & Design began quite a few years ago at a local market in Galway City, Ireland. I was searching for bilingual greeting cards in Irish and English and found that the only cards available were pretty old-fashioned. So I decided to make my own! My colourful and quirky greeting cards reflect a more contemporary Ireland and this style is also reflected in my artworks. I paint things as I like to see them in my minds eye – whimsical and fun.