Sure, sex is great, but have you ever taken your bra off after a really long day?
Photo by Zun Zun on Pexels.com
Who run the world? Girls do, silly! How many times does Beyonce have to say it?? But, if we run the world, then why does it still feel like we're still doing things to appease other people?
So I just popped out (ooh er!) the other day for a walk and five minutes down the road, I realised something was wrong. VERY WRONG. I had left the house without my bra! Any other day, I would have crossed my arms over my chest and scuttled back home, but for some reason I just decided, fuck it! Who am I offending? And I carried on with my walk (albeit without the usual bounce in my step) wondering why not wearing a bra is such a big deal.
For a young girl, picking out your first bra is something of a rite of passage. We long to be just like our older sisters and mothers, so getting a bra is a giant leap towards womanhood. But like so many rituals that women undertake, the fairytale ends pretty quickly. Next thing you know, you're into underwire bras and what can only be described as torture devices if you decide to go strapless or backless. Bras are like painful harnesses that actually inhibit blood flow, but we have to wear them, right? Conventional wisdom states that wearing a bra prevents your breasts from sagging, but what if that's not the case?
Well, health professionals have been questioning the benefits of wearing bras and a recent study by Professor Jean-Denis Rouillan, of the Centre Hospitalier Universitaire de Besancon in France, revealed that bras are not necessary for women's breast health –  anatomically, medically, or physiologically.  According to the study, not wearing a bra actually protects your breasts from gravity. This is because it forces women to have better posture. It also forces the body to develop the muscles that lie underneath the breasts, which aid breast support and lift. But it's probably too late for most of us who have worn bras since puberty. But that's okay, we'll just chalk it up to experience, like that time they gave us the wrong medical advice about how to take oral contraceptives, basing it not on science, but on a misguided attempt to appease the Pope. Yep, us ladies love a bit of religion mixed with our reproductive healthcare.
Anyhoo, maybe it's just our attitudes that need tweaking (sorry!). I mean, the uproar it causes even if a woman's nipple is visible. I'm still not sure the world has recovered from 'nipplegate', i.e. Rachel Green's out and proud moments on Friends.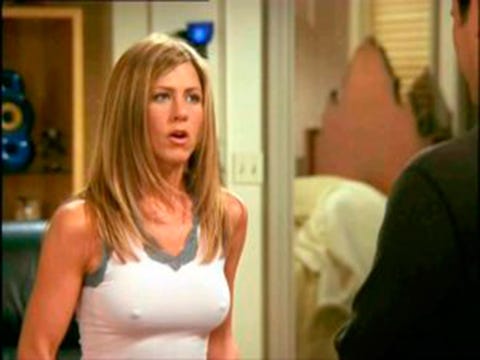 Viewers were obsessed by this 'wardrobe malfunction' because I mean, why else would she FLAUNT her nipples?! Like, cool the jets lads, we all have 'em. THIS IS WHAT BREASTS LOOK LIKE AND ITS NOT SEXUAL OR ATTENTION SEEKING,  THEY'RE JUST THERE. BEING BREASTS. 
But has this sensitivity to breasts always been a thing? A quick glance a Wikipedia shows that, historically, women have tended to bind their breasts one way or another through the ages, but binding them and trussing them up like turkeys at Christmas (I'm looking at you, Wonder Bra!) are two very different things.
In Ancient Rome, women playing sport basically wore boob tubes. But my favourites are the Greeks…
 They wore what was known as a breast band over beautifully draped dresses and the best part is, it doubled as an archery harness, so they could attach a quiver of arrows to the back! Now that's the kind of bra I want. Weaponised!
Anyway, back to the point. I guess if you're playing sports, you might want to keep yourself strapped in, or if you have quite large breasts and need the extra support, or you just like bras, but otherwise, is it really necessary? And if not, why are we still wearing these fecking contraptions?? Bras can be pretty expensive and if they only serve aesthetic purposes and adhere to cultural norms, then maybe we need to question their relevance.
Interestingly, when my initial embarrassment wore off, my next immediate thought was FUCK THE PATRIARCHY!! I don't think it's any coincidence that that phrase popped into my head, because dress codes are extremely sexist. A lot of the time, it feels like we're doing these things to avoid making other people uncomfortable. It might not be illegal to go out sans bra, but it is deemed highly inappropriate. By whom?? Well, one can only assume the cohort of people who seem to be offended by bouncing breasts walking down the street. Then there is the even darker side – the cohort of men who like to blame their behaviour on women – accusing them of looking for attention; sexual attention. As though our clothing choices are somehow sending out messages to men about our willingness to have sex with them. When in actual fact, we are simply dressing for ourselves and our own comfort. I mean, if we can manage to keep our eyes and more importantly, our hands, off topless men in the summer or in the gym, then surely they can be expected to do the same?
But society has always placed a more onerous dress requirement on women and things are very slow to change. It was only in 2016 that a woman in the UK was sent home from her job in Pricewaterhouse Coopers for not wearing heels!! Imagine if she showed up without a bra? Would she be fired outright? Even as we speak, women in Japan are campaigning to change the dress code that requires them to wear high heels at work (#KuToo). Japan's labour minister has (incredulously) defended the practice, saying: "It is socially accepted as something that falls within the realm of being occupationally necessary and appropriate". Imagine being told you couldn't do your job unless you wear heels? I mean, who needs dystopian novels! Women are often accused of being hysterical when it comes to seeking equal rights, but you would be too if you were consistently  discriminated against. We've only just celebrated having the vote for 100 years and it's not very long ago that we were not permitted to study at university or even keep our jobs after marriage. This is about more than just a bra, it's about exercising our personal freedoms.
So, will I be freeing the nipple (#FreeTheNipple is totally a thing with the influencers on Insta by the way!) from here on in? I'm not sure, but I'd like to give it a go. After years of being made to feel weirdly ashamed and wrong to be seen in public without a bra, it will probably take a bit of rewiring (haha!). Maybe I'll start by ditching the t-shirt bra and trying something less structured. Sometimes, clothes just look better with a bra and you're willing to put up with the discomfort for a while, but I still can't for the life of me figure out how they haven't yet been able to invent a comfortable bra that fits properly. And gives you compliments a la Gemma Correll…
Apparently the first bra (invented by a woman) was made up of two hankies and a piece of ribbon, which actually sounds quite pleasant, until Howard Hughes got involved and tried to make them look like the fuselage of a plane! So what do we think, is the world ready for boobs sans bras? Remarkably, it was only this year that most of us discovered what the anatomy of a woman's breast looks like!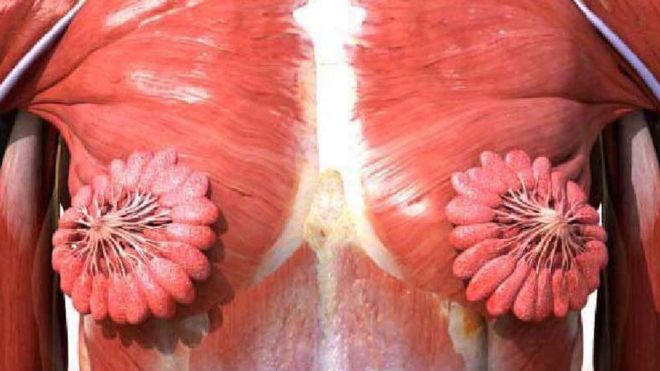 It definitely feels much more natural and a welcome relief not to have to wear a bra all the time. Let's be honest, it's the first thing most women do when they get home – take their bra off. Just as the #GreyHairDontCare movement (which I wrote about here) is liberating women from conventional standards of beauty and worse, propriety, #FreeTheNipple is telling women that they do have a choice and this collective shame we feel about our naturalness is not ours, but something that is projected on us. So what about you readers? Are you already way ahead of me and letting the girls loose?